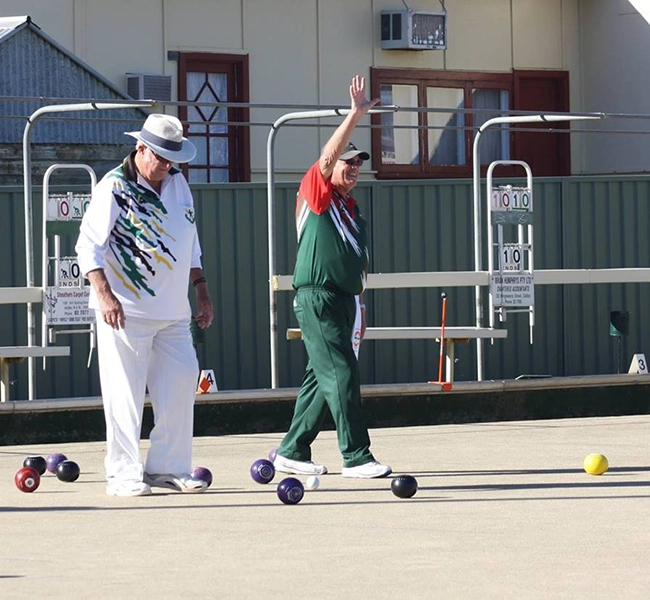 Looking for your new favourite sport? Or maybe you've tried bowls barefoot and you're looking for a bit more of a challenge. Why not become a Macquarie Club member?
Bowls is inexpensive, fun for people of all ages, and only takes 15 minutes to learn the basics. The Club provides the mats, jacks, and has a range of bowls for players starting out. Club coaches can even provide lessons – building up your skills up from the basics, to learning about strategy, etiquette, and team games.
Cost of membership is just $70 for a full membership that includes participation in competitions.
Anyone wishing to become a member of the Macquarie Club Bowls club can contact manager@macquarieclub.com.au.
And you'll be in good company. We currently have 100 men and women members, fielding 6 sides in pennant competition and competing in the highest grade of their respective pennant competitions. Many of our bowlers also go on to be selected to represent the local district sides.
Mens Bowls
Men's Social Bowls are held 2 times per week.
Thursday: Names in by 9am, 9:30 start. Mufti.
Sunday: Names in by 9am. 9:30 start. Mufti.
Guests and new bowlers are welcome.
Contact Men's Bowls President Robert Storch or Secretary Lindsay Burdon for details.
Ladies Bowls
Ladies Social Bowls are held on Wednesday mornings.
Names in by 9 for 9:30 start in Summer.
Names in by 9:30 for 10am start in Winter.
Uniform: Creams.
Guests and new bowlers are welcome.
Contact Ladies President Ruth Shanks or Secretary Rosslyn Joseph with any queries.
Barefoot Bowls
Why not do things a little differently and go for a bowl the next time you have an occasion to celebrate. Planning just to pop in? No worries, a game of social bowls can be easily organised on the day. Adults of all ages can play and it's children friendly.
Social bowls is operated on a walk-in basis only – just call the club in the morning and see what availability we have then come down and we will try to get you out on the green. And don't worry if you're a newbie, we'll give you a briefing on how to bowl to get you started.
Cost $10 per person. Includes equipment hire and two hours of green time.
Mixed Bowls
Mixed bowls are often held on special occasions such as Australia Day, St Patricks Day, Mother's Day, and Melbourne Cup Day.
These are often fancy-dress days!